Tobias Gerber
January 2020
acrylic on canvas 70x50cm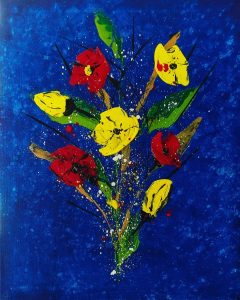 Every season has a face. Winter time is white and sometimes grey. If we look back to the time of colors, the summer, we could get frustrated. But looking forward and can not wait for spring is another option. I can not wait till nature give another run of beautiful colors, shapes and arrangements.
During a pain period in my body, I can choose the grey frustrating option – or looking ahead and see colors of life, spring and plans to do. The summer and the flowers will come.
Sure!